Category Archives:
Wardrobe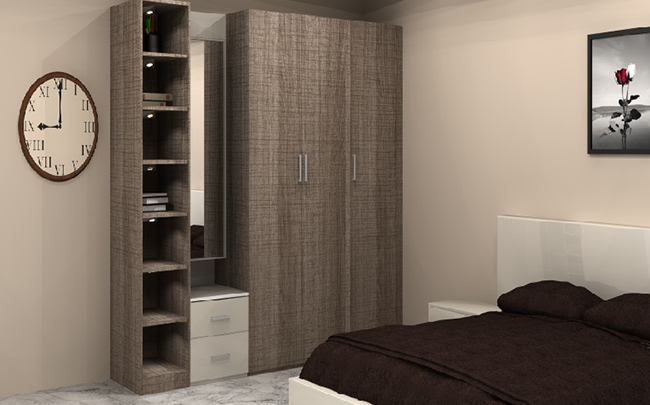 General tips for safety and maintenance of a wardrobe
Who does not like a well-kept bedroom space with a neat wardrobe that is as safe as can be? As easy as it sounds, maintaining a modular wardrobe goes beyond its looks and adds to the overall upkeep of the room. 
Of course, maintaining furniture is quite a difficult mission, especially when you have a fabulous modular wardrobe to walk into. But the job can be half done when you decide to look into these few tips that we have put together for the better maintenance of your beautiful modular wardrobe. 
When opting for standalone wardrobes or other furniture in your bedroom, go for safer options like choosing a

modular wardrobe design

with wide legs and a solid base. This will minimise risks of tip-overs, especially if you have children in the house. 

Glass wardrobe designs

are great, but consider the safety of occupants of the house when planning to design

modular wardrobes

. 

Anchor

wardrobes in bedrooms

, particularly when young children often use the space. 

When it comes to drawers in wardrobes, open the ones that are necessary and avoid keeping everything open at once. 

Keep heavy objects, electric gadgets and items unsuitable for children out of their reach in wardrobe shelves or drawers. 

Occasionally, check for loose handles, screws and other hardware. Get them repaired as and when you notice flaws in your

modular wardrobe

. 

Never let children stand or sit inside shelves, closed doors and large drawers inside wardrobes- even if for pla
Now that we have discussed general wardrobe safety, here are a few other tips to maintain the elegance of your wardrobe, and keep it radiant for years!
First things first, make it a habit to organise your wardrobe once in a while. Air out your favourite stack of clothes, shoes and other accessories. Mold and creepy crawlies don't look good in a

modular wardrobe

! 

Be aware of the temperature – avoid extremely cold or hot objects inside

wooden wardrobes

. This has a tendency to leave marks that may damage the original texture of the surface. 

Use mild soap and some warm water to clean your wardrobe (when you know it's the time!). Let it dry, and then reorganise your wardrobe to give it a fresh look. 

Placing naphthalene balls can help prevent insects from invading your wardrobe. 
Maintaining the allure of your modular wardrobe design need not be rocket science. Occasionally, a simple assessment and manual maintenance could be a rewarding experience for your bedroom space. The effort you put in for designing your dream modular wardrobe should go hand in hand with maintenance of the same. Let your furniture age with grace! 
With a showroom in Ernakulam (Kochi) and Thrissur and servicing Kollam, Pathanamthitta, Kottayam, Alappuzha, Idukki, Palakkad, Malappuram, Kozhikode (Calicut), Wayanad, Coimbatore and Kannur areas, reach out to us at contact@bespokedecor.in for designing a safe wardrobe design that is easy to maintain.