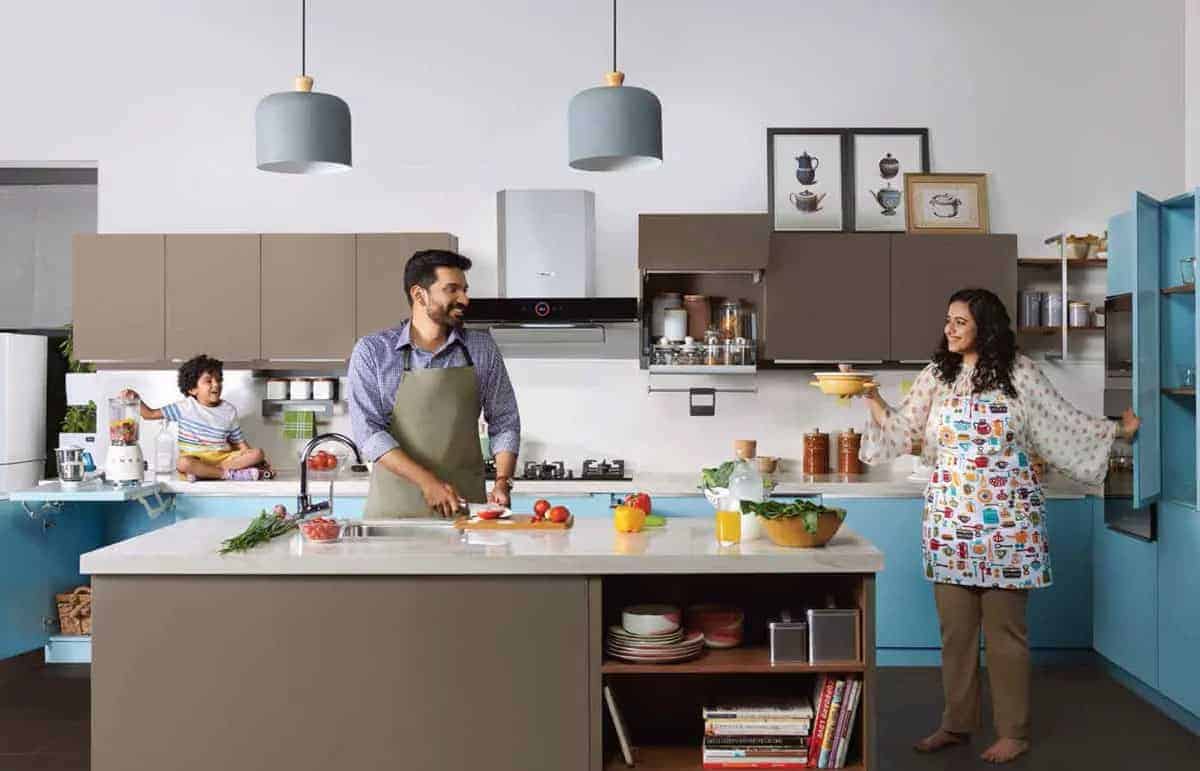 A One-Stop Shop for All Your Interior Design Needs
Bespoke Décor, based in Kochi and Thrissur, follows a customer-centric approach to transforming spaces. The transformation of your home begins and ends with you! The high-quality designs come at the best value for money rates and our unparalleled customer service will ensure that you have a smile on your face throughout the process!
Spectacular Modular Kitchens
Every kitchen remodel deserves a stunning interior design transformation— and Bespoke Décor makes it happen!
Bespoke Décor is an exclusive dealer of Sleek modular kitchens from Asian Paints. With countless options of simple modular kitchen designs and a stunning signature collection designed by top Indian interior designers, you're spoilt for choice. From the catalogue, to the heart of your home!
Wonderful Wardrobes
For unbeatable storage solutions and wardrobe designs, Bespoke Décor's collection has something for every home! We offer a wide range of styles, all fabricated from materials of the highest quality in our extensive wardrobe catalogue- which can easily be customized, just for you!
Impressive Interiors
Bespoke Décor's expertise is not restricted to modular kitchens and wardrobes only— we truly are a one-stop-shop for all your interior design needs! From custom-made entertainment units to bedside tables and shoe racks: consider all your wooden cabinetry needs fulfilled too. We believe in creating a home with you, for you, that you love.
Bespoke Décor: Where Style Meets Function
Comparison

Regional Players
European
Brands
Sleek By
Asian Paints
Brand Recognition
Reputed and well-recognized brand across Indian markets
No
Limited
Yes
Design
Expertise
Capability to provide expert kitchen designing & usage solutions
No
Yes
Yes
Manufacturing
Scale
Ability to cater to Large scale orders for builders
No
Yes
Yes
Adapting to Needs
Planning, designing & installing keeping the requirement of Indian households in mind
No
No
Yes
Professional Approach
Transparent working with a professional team
Limited
Yes
Yes
Material as per Specification
usage of high-grade PLY to increase kitchen durability and appearance
Limited
Yes
Yes
Choice of material
A diverse range of product options to choose from, which is fully customizable
Limited
No
Yes
Quality Assurance
Reliability of consistent quality & precision across multiple units of the same order
No
Yes
Yes
Value
Build-up
Value for money product & service – reliability from unaccounted expenses
Yes
No
Yes
Timely
Delivery
Swift and guaranteed delivery time – reliability from unexpected delays in delivery
No
No
Yes
After Sales Service
Quick & effective resolution of any customer complaint and Post sale servicing for increasing kitchen life
No
Limited
Yes
Let's Create Together
Planning your design, material, spec
and giving you a transparent view
The Final Strokes
Selecting the best value for money offering for your dream home
Let's Make It Real
Hastle free installation and handover to make the dream reality