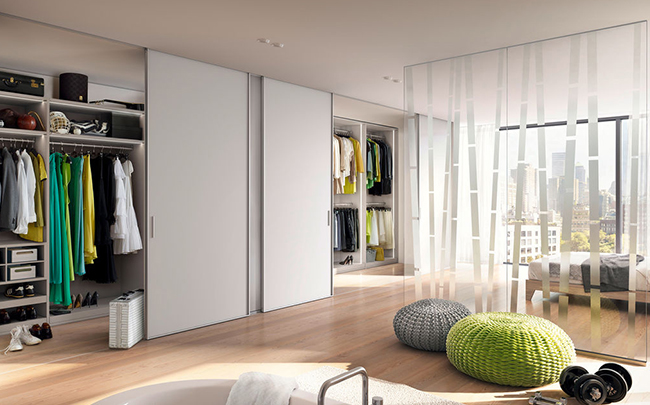 Choosing A Wardrobe Material & Design That Lasts
A wardrobe should not be considered a mere bedroom accessory for storage, but an element that adds sheer elegance to the entire space. When it comes to maintaining a modular wardrobe in Indian households, factors like extreme weather conditions are critical aspects to consider. 
There are various options ranging in quality and cost for wardrobe materials. With each finish comes a distinct look that defines your taste for bedroom decor. However, in a tropical country like India, weather plays a major role in your choice of modular wardrobe designs. Taking into account such important aspects, here are some of the most popular wardrobe materials in Indian households. 
The Core Material used: 
1. Plywood 
The best alternative to

wooden wardrobe designs,

without a doubt.

Plywood material is  available in softwood and hardwood. 

These

modular wardrobe designs

can come in moisture-resistant plywood that keeps mold out of your wardrobes, especially in humid conditions. 

Other types of plywood include- boiling water-resistant (BWR) and boiling water-proof (BWP) types that suit all weather conditions. 
2. MDF (Medium density fibreboard)
MDF boards give the appearance of wood while being economical, in comparison to solid wood. 

However, they are not water resistant and are contraindicated in areas of high moisture and humidity. 
3. HDF (High density fibreboard)
HDF is a better option in terms of durability as compared to plywood and MDF. 

They remain more dimensionally stable making it a good option even in areas of high moisture and humidity. 
4. HDHMR (High-Density High Moisture Resistance)
Another viable option for wardrobes in high moisture locations, HDHMR is easy to maintain, water resistant and resilient to termite infestations. 
5. Metal 
Being the oldest type of wardrobe material, metal gives a traditional look to any space in your bedroom. 

Needless to say, it amplifies the 'bold' factor of your bedroom space.
The Finish or Shutter Used: 
1.  Veneer 
This type of wardrobe finish imparts a traditional as well as a modern appearance and can be used for most types of designs.

Veneer finish wardrobes have a wooden framework and hence need maintenance since it is made of thin wooden sheets. 
2. Laminates 
The most common

wardrobe design

owing to its high durability, water-resistance and cost-effective nature. 

Laminate finish wardrobes come in glossy, matte and textured types. 

Laminate finish wardrobes are easy to maintain and can be customised according to one's personal preference. (eg:

sunmica wardrobe designs

)

The quality of laminate finish wardrobes is great, which makes it a popular choice among

modular wardrobe designs. 
3. Glass 
Glass wardrobe designs

impart a classy look to any

modular wardrobe

. 

The types include plain, lacquered, frosted and tinted finishes. 

If you dream of a minimalist wardrobe finish, glass could be one of the best options for your space. 
4. Mirror 
Want to make a

small wardrobe design

look a little bigger? Getting a

mirror finish wardrobe

will do just that. 

The base material or the cladding used to fix mirrors should be of good quality, so as to bear the weight of mirrors on wardrobes. 

A little bit of upkeep is needed to give it a flawless appearance, as mirrors can retain fingerprints easily. 
Other shutter finishes include solid wood, Corian, PU, Ceramic, Matpro and Acrylic, to name a few. Reach out to our team to find out more.
Regardless of the material you choose for your modular wardrobe design, here are a few tips to care for your wardrobe. 
Check for external water seepage, in spaces closer to the wardrobe.

Keep your wardrobe space airy and neat to avoid the growth of mold. 

Never store damp clothing and accessories in your wardrobe.

Place naphthalene balls or mothballs to keep humidity away from your wardrobe. 

Finally, declutter and rearrange your wardrobe once in a while! 
Your modular wardrobe design can make or break the look of your overall bedroom layout. Hence, a well-thought-out modular wardrobe design that syncs with the weather outside should be prioritised. 
With so many wardrobes to choose from the customer can make an informed choice as to what they may need. With a showroom in Ernakulam (Kochi) and Thrissur and servicing Kollam, Pathanamthitta, Kottayam, Alappuzha, Idukki, Palakkad, Malappuram, Kozhikode (Calicut), Wayanad, Coimbatore and Kannur areas, reach out to us at contact@bespokedecor.infor designing a wardrobe design suitable for the weather where you live!