Category Archives:
Kitchen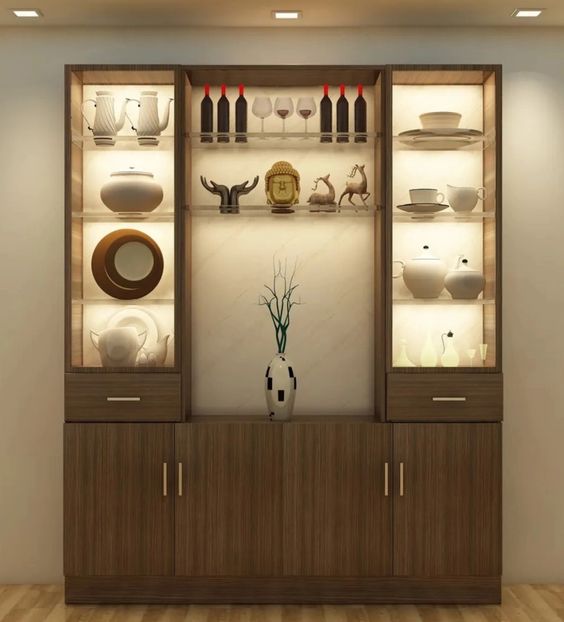 Interior design in Kerala has emerged as a high-demand field. People want to improve the look and functionality of their space by consulting with experts in the field. Over our time as the top interior designers here in Kerala, we have got a taste of what suits our customers' palates. 
There are several different types of crockery shelf designs available all across the world, but many of those designs may not necessarily suit the Kerala market- this may be because of the material, weather, cost or even the style. 
Listed below are the different varieties of crockery shelf designs available in (and suited to) Kerala: 
1. Large Wooden Crockery Shelf 
If there's one thing that a majority of Indians love in their homes, it is the magnificence of mahogany or teak furniture- and us Malayalis are no exception. To display their beautiful tableware, people usually opt for nothing lesser than the best. 
These large crockery shelf units can add a regal look to a large room but may not be suited to compact spaces. 
2. C-shaped Crockery Shelf 
If you want a crockery shelf unit with the beauty and functionality of large units but the simplicity of a smaller one, the C-shaped crockery shelf comes highly recommended. 
With large horizontal display cabinets on the top and bottom alongside a single vertical cabinet on one end, this design is elegant and not as space-consuming. 
3. Floating Crockery Shelf Design 
For those customers in Kerala who want a contemporary crockery shelf design, a floating one may be apt. They are more space effective too while bringing in tons of functionality. 
4. Crockery Unit with Prayer Shelf 
For a multi-purpose unit in smaller homes, the crockery unit with a prayer shelf is becoming more and more popular. Both areas are well-designated and can offer their separate functionalities. 
5. Bar-attached Crockery Shelf 
Another option of a multi-purpose crockery unit is one with an attached bar. It can be used to display the glassware and bottle collection you have while saving space. 
6. Under-stairs Crockery Shelf Design 
This unique crockery shelf design is perfect for duplex homes where the dining table is placed adjacent to the stairs. This helps convert an area with barely any use into a well-managed, functional and beautiful crockery shelf. 
Based on customer's unique requirements, our team at Bespoke Decor has also created several other crockery shelf designs for clients across Kerala. Our process would be to understand the family's expectations and requirements to create a 'bespoke' Bespoke crockery shelf for them. 
Feeling inspired or have an all-new idea for us? We love a good challenge- reach out to us at _______.