Wardrobe Roulette- which modern wardrobe design would you choose?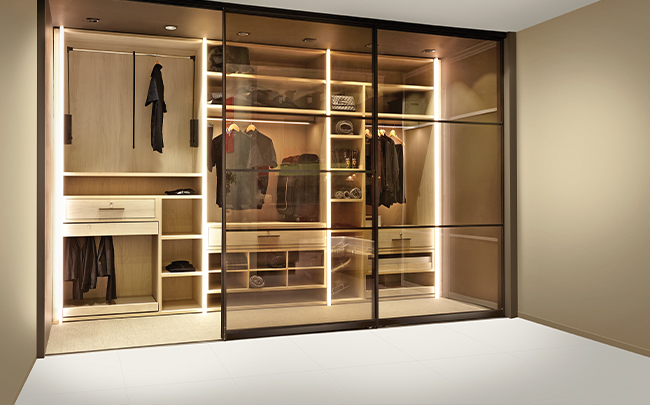 Sliding, Walk-in and two-door wardrobe designs have you confused?
Designing an aesthetically pleasing bedroom needs a lot of thought, that too when you choose to include a wardrobe design that will blend in with the appearance of the room.  Needless to say, wardrobes are an influential aspect of modern homes today.  Trends in wardrobe doors have been evolving with time, so are the designs. 
Choosing a wardrobe type in correspondence to your bedroom space will give clarity on the kind of wardrobe door style you need. We move with time, so do these wardrobe door styles. Luckily, we have some inspirational wardrobe door styles that you can choose to have in your bedroom.
1. Sliding wardrobes
The perfect choice for every modern wardrobe design, and effortlessly classy! Sliding wardrobes have the advantage of saving space in your room, as well as preventing mishaps, unlike the conventional hinged door wardrobes. What we love about sliding door wardrobes is that they can be designed as per interests. Looking for a traditionally crafted sliding door wardrobe, or a minimalist-style door? We say both are possible! 
Sliding wardrobes can be customised in terms of colours, material, and even certain features. Furthermore, sliding door wardrobes are an excellent choice for narrow room spaces and small bedrooms. Fitting additional elements like mirrors and giving it a contrast design on the other end is possible with these modern wardrobe doors. 
Finishes in natural wood, aluminium, and glass are some of the best moving wardrobe door materials that can give your room a 'straight out of a magazine' feel! 
2. Walk-In wardrobes
There is nothing more dreamy than walking right into your collection of clothes, shoes, and accessories. Just as pretty as a picture, walk-in wardrobes are practical solutions to space (lots of it!) and keeping everything organised. 
Walk-in wardrobes have the added advantage of protecting clothes, shoes and jewellery from mould, moisture or odour as they can be arranged neatly, without having to cram everything together. 
The designs can be of any shape, finish and have matching accessories to build the glam factor. Mirror fittings in a walk-in wardrobe can be customised as sliding or hinged doors, based on personal preferences. Here's what we know for sure-  Walk-in wardrobes add a whole new level of luxury appeal to your home!
3. Two-door wardrobes
For simple yet elegant wardrobe designs, a two door wardrobe would be the ideal choice. These wardrobe door designs come in various colours and finishes. Compared to the more modular wardrobe door designs, two door wardrobes can be fit under angled ceilings, corners and stairs.
Two door wardrobes can also accommodate elements like mirrors, that makes these wardrobe designs look minimalist.
A change in your bedroom amped up by modern wardrobe designs can make heads turn. Deciding on the type of wardrobe style, the changes in wardrobe doors can be altered as well. It all zeroes down to the space and comfort of your bedroom, which best accommodates these chic wardrobes. 
With a showroom in Ernakulam (Kochi) and Thrissur and servicing Kollam, Pathanamthitta, Kottayam, Alappuzha, Idukki, Palakkad, Malappuram, Kozhikode (Calicut), Wayanad, Coimbatore and Kannur areas, reach out to us at contact@bespokedecor.infor designing that wardrobe of your dreams!