The Secret Of Most Stylish Kitchens- Glorious Glass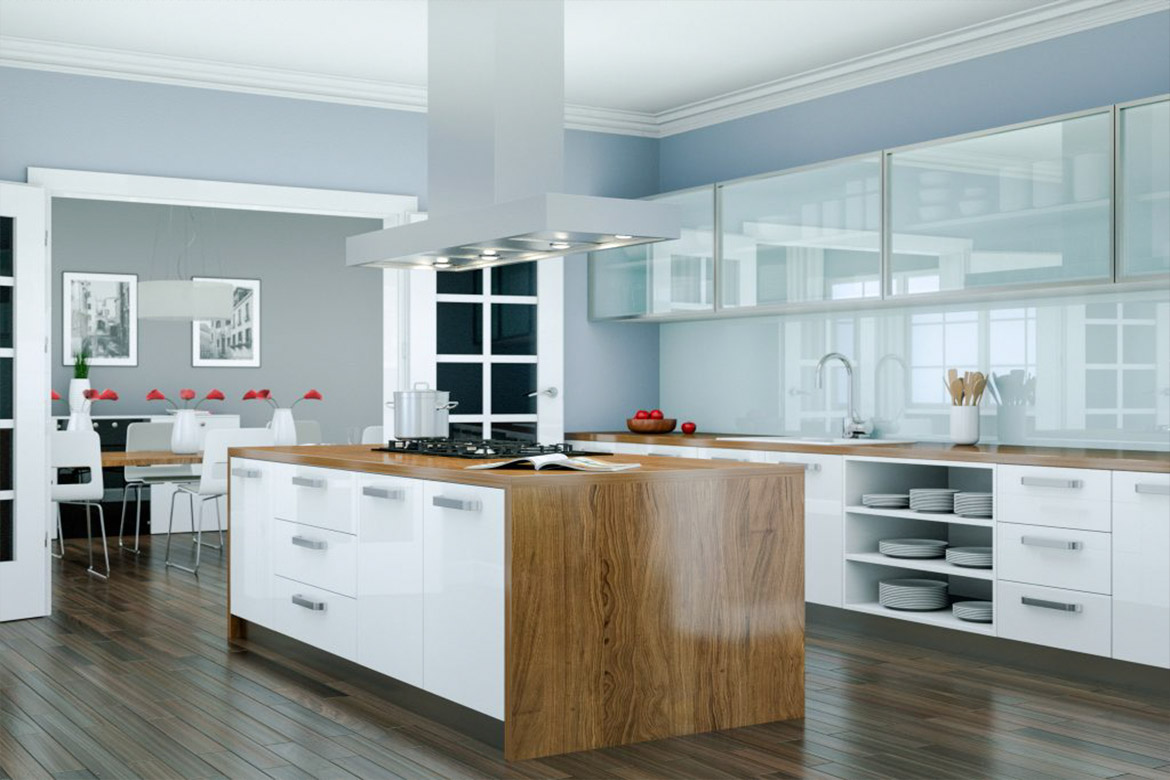 Why you absolutely must choose Glorious Glass for your kitchen finish.
A beautiful kitchen makes one of the best backdrops for that happy dream of domestic bliss. Perhaps you imagine it as the cool, colorful kitchen where you chat and laugh with your friends as you put together a snack-tray for a casual get-together. Or maybe you imagine a bright, cheerful space where you share a cosy moment with your partner as you make your breakfast together. However you choose to imagine it, if your dream is set against a sleek, contemporary kitchen, then your kitchen design should definitely include an appropriately premium shutter finish to match.
When it comes to sleek, high-end kitchen finishes, few materials can recreate the smooth sophistication of lacquered glass. Glass shutters give the kitchen a premium look and amplify the overall elegance of the space.  
The lacquered glass kitchen shutters really take kitchen shutter design to the next level. Combined with integrated handles and easy-open features of modern modular kitchens, they create a seamless and intuitive kitchen environment that is a sheer joy to use.
You might have some doubts about using tempered glass in the kitchen, but rest assured glorious glass is truly glorious–it is as durable as it is elegant. Made using specially toughened glass for kitchens, glorious glass does not break easily. This chic and stylish kitchen shutter finish is meant to last.
Glorious glass kitchen shutters are created using extra clear toughened glass that is painted on the backside, such that the viewer can see the painted surface through the glass. Also called lacquered glass, these back painted glass kitchen shutters have a unique and rich shine that can really make the kitchen pop. They are available in a wide range of colors, so you can choose the perfect shade to match your design aesthetic.
Why Choose Glorious Glass?
Glorious glass is beautifully light and aesthetic

As it is made of toughened glass, it is quite durable and not easily broken

Glass is resistant to heat and moisture, making it perfect for the kitchen

The shutters can withstand changing weather conditions and are not likely to get disfigured or deformed and are also immune to various other ravages that ruin other materials like rust or termites

Glorious glass is very easy to maintain, as it is resistant to most scratches and abrasions and is easy to clean – simply wipe it down with a clean cotton cloth!

Glass is one of the most eco-friendly materials in the construction business, making this one of the greenest finishing options you could find
It is true that the PU glass finish price or the lacquered glass kitchen shutter price is generally higher than the price of other kitchen finishing options such as laminates or PU finish. However, given the almost fool-proof combination of aesthetics, durability, easy maintenance and sustainability of glorious glass, this finish gives value to the money spent on it. After all, at the end of the day, your dream home is definitely worth investing in.
If you're looking to bring your dream kitchen to life, then do reach out to Bespoke Décor at +91 90 20 10 70 22 | 23. Our experts specialise in crafting exquisite and eye-catching kitchen designs that can be tailored to suit your own personal style and aesthetic.