The All-Encompassing Beginners Guide to Modular Kitchen Chimneys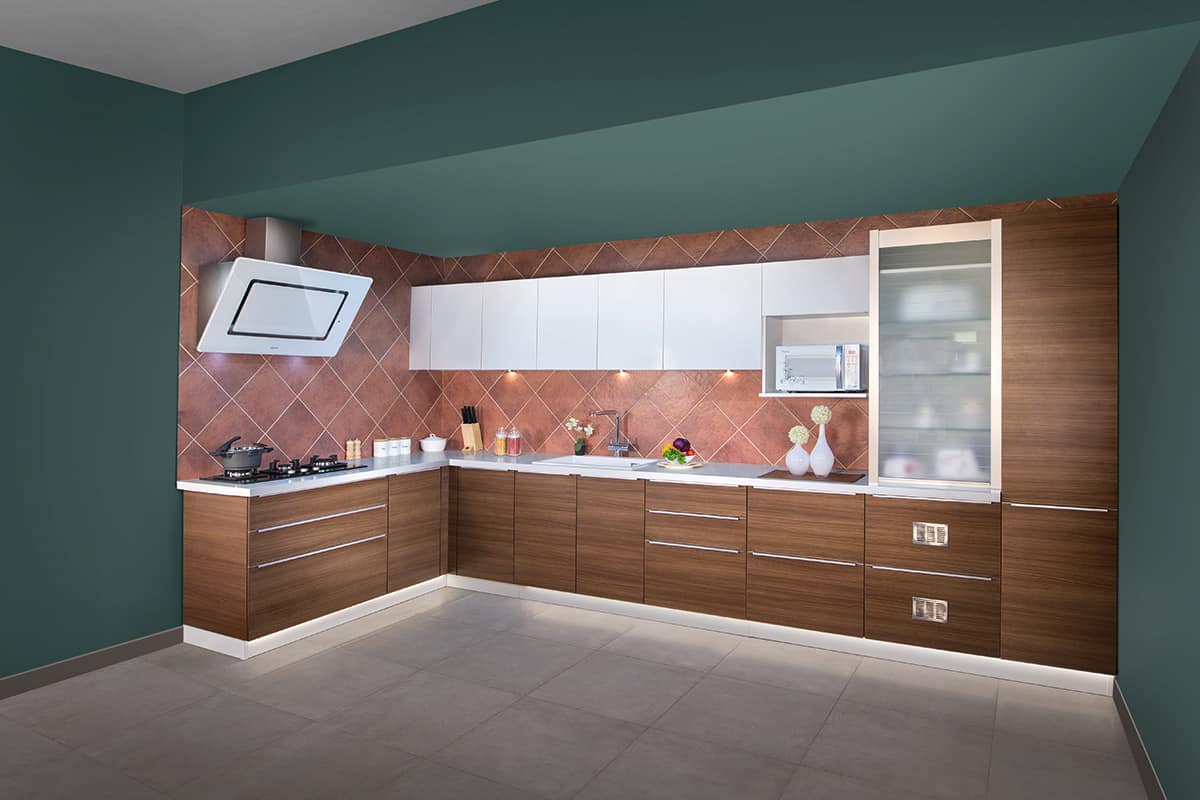 Now that Kerala-style fish fry smell won't reach your vegetarian neighbours!
The one addition you see in clean and smoke-free modular kitchens are definitely kitchen chimneys. Hands down, they keep your work triangle spick and span, not to forget, well-ventilated too. 
With a cosy home and an ergonomic modular kitchen in place- fitting a few of the prime kitchen accessories are more of a necessity than a choice. Without a modular kitchen chimney installed, how else would you avoid your favorite Kerala fish fry aroma from reaching your vegetarian neighbors? 
We sure have the best solutions for your kitchen ideas, not just to make it smoke-free, but cost-effective too. Read on to find out more.
What types are available in the market?
1. Wall Mounted Chimney
Fixed above the stove onto the wall, these chimneys add a modern touch to your kitchen. These chimneys are budget-friendly and best suited for smoke and spice intensive Indian cooking.
2. Island Chimney
Just as the name suggests, the stove stands away from the walls, and hence, the chimney is above the stove in an island fashion. These chimneys are best for a U-shaped or open kitchen layout. 
3. Built-in Chimney
With a seamless look, these chimneys come in box shapes. The parts fit inside the kitchen cabinet, making the chimney almost invisible. This decorative chimney radically reduces smoke and fumes while producing less noise when in operation.
4. Straight Line Chimney
This type of chimney is best suited for small-sized kitchens. It is designed in a way that it extends only halfway over the stove.
5. Corner-type Chimney
Compact and well-adapting to small spaces, corner-type chimneys are located just above a stove placed in the corner of a kitchen. These chimneys add a natural look to the corner space.
6. Curved Glass Chimney
These chimneys come with push buttons, allowing easy access to features. These are decorative chimneys which add a design-savvy look to your modern modular kitchen.
Get to know chimney filters 
Mesh/Cassette: 
Aluminium type, lightweight and detachable

These filters are inexpensive

Can retain oil particles, fume or grease while only releasing hot air outside

Difficult to clean between the layers
Baffle: 
These filters have a bigger space for air movement

Easier for airflow 

Baffle filters

are dishwasher-safe and easy to dust

Expensive

Heavy in weight due to steel structure and pipes
Charcoal/Carbon: 
These filters allow only hot air to pass

Charcoal granules absorb the grease and can be used for a ductless chimney

Since the charcoal granules cannot be washed, the filters have to be

replaced once in a while
Which are the best brands?
Some of the best brands that keep pace with futuristic designs and technology for decorative chimneys are:
Faber 

Bosch

Elica

Sleek

Glen

Kaff

Siemens
When selecting a decorative chimney for your modular kitchen, always consult a specialist to choose a cost-effective set-up while choosing the size and calculating the suction capacity of a chimney. As a layman, pondering over these factors could be a challenge. Consult your nearest top-rated interior designer like Bespoke Decor to get your best options. 
Now that you are aware of the few designs and filter types, choose a kitchen chimney that compliments your modular kitchen. Still, confused? We are only a call away!