Styling your Crockery Shelf- All you need to know!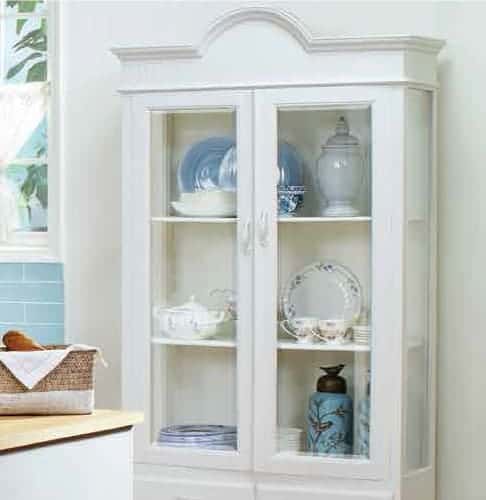 Statement piece for your modular home design
You would be surprised to know that crockery shelves can be more than what they appear to be, rather than a mere piece of furniture that stores tableware. Elevate the overall look of your crockery shelf, amping up the space in total! 
Here are a few ways to style a crockery shelf, making it a statement piece of furniture for your modular home design!
Crockery shelf design as a partition
When there is a dearth of privacy between living rooms and dining halls, a floor-to-ceiling length crockery shelf can act as a partition unit, whilst displaying the contents of the shelf. Glass shutters go best with this design and giving decorative LED lights will add to the glamour factor.
Minimalist crockery shelves
These tall units come with open and multiple shelving to give it a fuss-free, simplistic look. The shelves can be used to store crockery as well as display decorative pieces that match the interior design of the room. 
Bar unit cum crockery shelf design
Homeowners who hoard a collection of exquisite crockery as well as fine wine (or any liquors), this crockery shelf design is something to consider! To set in the perfect ambiance of the unit, give backlit shelving,  glass door shutters and wooden finishing. 
Floating crockery shelves on display
This modular design is a winner for compact homes as it saves space and works well for a stylish piece of furniture too. Crockery shelves can be given a wooden finish with ample shelving to incorporate decorative pieces for display. 
Crockery shelf with TV unit
Fitting a television unit between two tall crockery units is another way to style crockery shelves. Deck up the shelves with crystal or bone china crockery, give glass door shutters and fix LED lights to fall on the tableware. The space for television can be kept simple as there would be enough lighting from the crockery units. 
Crockery shelf with Pooja unit
A common design in India, crockery units can be modified to accommodate space for a miniature Pooja room. Crockery shelf designs in Kerala have a variety of options for secluding the pooja space with special door designs.  
Bookshelves with the crockery unit
If a book collection is something you like to flaunt, club the bookshelf with the crockery shelf for a vintage yet stylish look. 
Customised crockery units 
If unique shapes and contemporary styles amuse you, customising a crockery unit for the dining hall is a brilliant option, especially for modular home designs. Different compartments and shelves can be given to place tableware as well as artworks for a sleek design. 
Crockery units with an accent door
For dining rooms with less space, choosing a crockery unit with a decorative accent door can make up for a lovely wall too! This modification is a boon to dining halls that need storage space as well as decor accents.
Crockery shelves have evolved from being only an item of storage furniture to serving as decor and a showcase for fancy dinnerware. We hope that this article helped you learn about the practicalities of crockery unit designs and how they influence the aesthetic expression of the dining room.
Do you need more information on crockery units or have a design in mind? We could help. Please get in touch with us!