Raise a glass for stunning glass wardrobe designs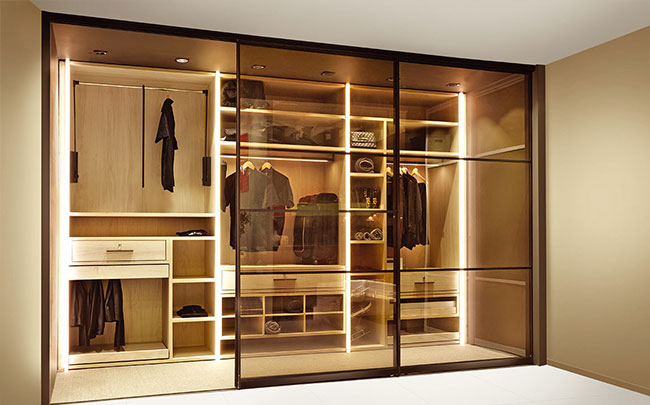 Stunning luxury- now in your bedroom! 
If you want to give your bedroom a classy appearance for it to stand out, there are a few ways to go about it. The main focal points of the bedroom are the bed and the wardrobe, so a classy transformation of these two aspects will lend a luxurious appearance to the bedroom. In this article, we will be closely examining how a glass wardrobe design can change the look of a room. When it comes to wardrobe designs, a variety that's gaining the hype it deserves is the glass wardrobe design.
Let's look at the advantages of a glass modular wardrobe design:
These premium types of wardrobe designs give the overall bedroom a classy and sophisticated appearance. It is preferred in contemporary settings and adds an edge to the preexisting decor. 

They can give a sneak peek into the contents of a wardrobe, making access to items easier. 

They are very quick and easy to install. 

They can also be used to display items of interest. For instance, in a walk-in wardrobe, a glass-covered unit can be used to display bags and shoes for added oomph. 

Sliding wardrobe doors made of glass are functional as well as space-saving. 

Glass can be customized to the customer's liking- it can easily be painted or frosted based on their preference. 

They save more energy than traditional wardrobes with lights as the need for switching on lights is reduced. 
Disadvantages of glass wardrobe designs:
Glass wardrobes are available at a higher price point than regular wardrobe designs.

They are prone to shatter and repairing or replacing the broken glass may be expensive too. This can be prevented with the use of cupboard-appropriate glass types that are less likely to shatter. 

They tend to discolor over a long period. This can also be prevented by investing in a glass wardrobe of high quality. 

Upkeep requires attention as glass can be easily marked by fingerprints. 
Technically, all of the disadvantages can be easily addressed- therefore the advantages outweigh the apparent disadvantages!
Types of glass wardrobe designs:
The glass used on the surface of the wardrobe can be of many types- transparent, frosted, lacquered, or stained glass. 
Glass Wardrobe Vastu tips: 
Avoid placing broken glass or cracked elements as they can be a source of negative energy. If a glass wardrobe breaks, get it replaced immediately. 

Position glass in the North or Northeast directions for maximum benefit. However, it is generally recommended to place a wardrobe in the Southwest or Northwest. So, find a way to balance both of these. 
The experts are here forever to help you out. With a showroom in Ernakulam (Kochi) and Thrissur and servicing Kollam, Pathanamthitta, Kottayam, Alappuzha, Idukki, Palakkad, Malappuram, Kozhikode (Calicut), Wayanad, Coimbatore, and Kannur areas, reach out to us at contact@bespokedecor.in for designing a wardrobe design that you will love!