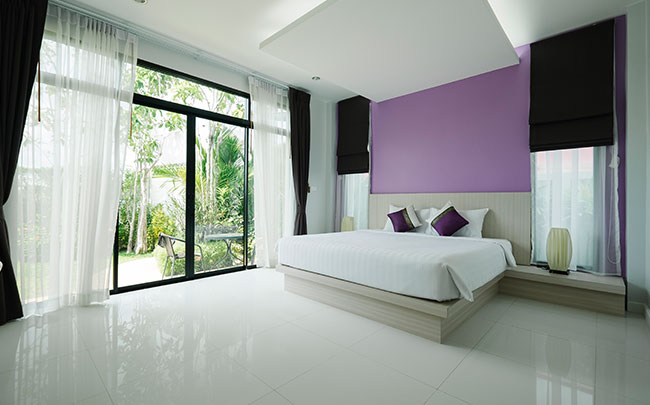 Unlock unlimited storage
Whether it's a studio apartment or a luxurious villa, who doesn't love a bedroom with a classic style and neatly organized interiors? In order to maintain the flawlessness of bedrooms, storage solutions are a topic to discuss, as they can mean the difference between a cluttered and a tidy bedroom
Fortunately, there are numerous ways to save space in modern bedroom designs, big or small. We have sifted through hundreds of storage hacks, and come up with 25 smart solutions to help you make the most out of your bedroom space. Thank us later!
Utilise the storage space under beds. Keep shoes, yoga mats, books or whatever you wish to store under the bed! 

Fold bedsheets under the bed mattress. Pull it out when you need to use it.

Choose fitted wardrobes to maximise space in the bedroom interiors.

Buy floating shelves to keep your favourite things on display, or fix shelves along the perimeter of your bedroom.

Get a coat rack to hang coats and scarves. You can even ornament the rack with long jewellery, hats, towels and even eyewear. 

If you are a keeper of many unused things but love storing them, get a storage chest with seating that can be used as furniture too. 

Organise your drawers with dividers that will help you pick what you need, without having to mess it up again.

 Opt for a table with a chest of drawers over a basic table, as multifunctional furniture can maximise space. 

Utilise the space behind your bedroom door by attaching pegs to hang clothes or shoes. 

The

latest bed designs

offer various modifications, hence choosing a functional headboard would be great for storing essentials. 

Declutter your wardrobe, and use slim metal hangers for clothes.

Have a lot of blankets? Fold and stack it up in a blanket basket!

Let the dirty clothes go into laundry baskets or hampers. 

Always keep an attractive waste bin that matches the

bedroom interior design

. Well, it sure is important!

If you are a makeup junkie, create a magnet board for your cosmetics. This brilliant hack saves space and saves time. 

Use up the extra vertical space in your

bedroom design

to store up bedroom essentials. 

Use the inside space of your wardrobe door with pegs to hang shoes or jewellery. 

Hide keys behind the artwork frames in your bedroom. 

Thinking of a home office in your bedroom? Get a bedroom bench with storage space. Conceal the paperwork inside! 

Store up toiletries in mason jars. 

Make use of empty drawers by fitting an in-drawer charging station for mobile phones or laptops. There's no better way to detangle wires!

Stack up towels on the shelves near bathroom doors. 

Keep potted plants on or near the windowsill. 

Use baskets to store extra clothes, pillows, and toilet rolls. 

Nobody has probably suggested this, but you could hang your masks on wall hooks in the accessible corners of the bedroom.
A modern bedroom design needs to be stylish as well as practical. But as far as we know, the best bedroom storage solutions are relatively easy to follow, and they needn't break your back! 
Ready to store your bedroom accessories? Call us on _______ to know how we can help