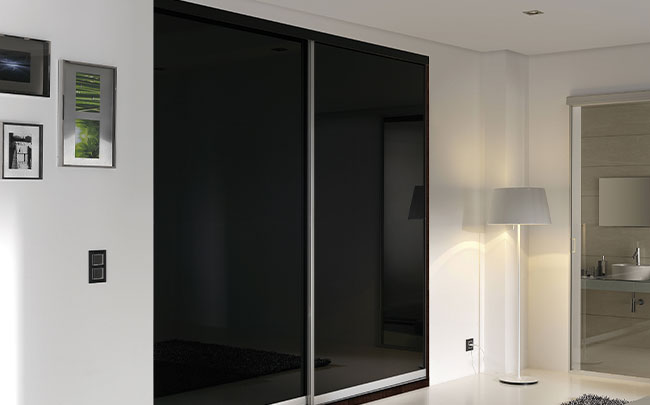 All about Sliding Wardrobe Designs
When we talk about wardrobes, the main aspects we look for in a modular wardrobe design are the space, storage and definitely, the style. When all of these factors align in perfection, a sliding wardrobe design is the best option to choose from the various other designs.
Why sliding wardrobe designs are great in modular homes
Easy access to all your storage needs

Great for compact bedroom spaces too

Offers a great style to modular bedrooms, compared to traditional storage solutions

Can be customised with colours and finishes that suit a bedroom architectural layout

Makes use of more floor space, rather than taking up extra space of the other areas in the room
What sliding wardrobe door designs look like
The wardrobe door designs can be customised as minimalist, contemporary or in a cool modern style. 

Sliding wardrobe designs with mirrors create an illusion of more space in the room, with added light to accentuate the room space. Mirrors add a glam factor to wardrobes as well!

Themed bedroom designs can have a themed wardrobe door design too. The sliding door of this modular wardrobe design can serve as a canvas, hence blending with the theme of the room.

Who said frosting is just for cupcakes? Frosted glass sliding wardrobes are a modern solution to hiding what's inside your wardrobe. Here's a pro-tip, frosted sliding doors merge beautifully with brickwork walls, giving it an overall chic look. 

Want both mirrors and patterns on your sliding door wardrobe? The good news is, it's possible. With the mirror being integrated into the sliding door, one panel covers the mirror part, whereas the pattern is copied onto the other sliding door of the wardrobe design. 

A dual finish sliding wardrobe like combining glass and laminate enhances the look of your wardrobe. It can be further customised according to one's personal choice of colour combinations. 

Extra storage can be added in sliding wardrobe designs by fitting open shelves. 

If you have a bedroom wall to spare, think about a wall of wardrobes. The wall-to-wall wardrobes have sliding doors that stretch across the room, making it an element of interest. 

Glass wardrobe sliding door designs are the new minimalist and classy option for your modular wardrobe. The contents of the wardrobe would be on display, making it the absolute choice for styling any modern bedroom. 
When you need functionality and style, choosing a modular wardrobe design can make you think twice. When in doubt, consider designing sliding door wardrobes as they are exquisite options to make your bedroom look elegant and minimalist.
Still not sure? Give us a call, we'll serve you better. With a showroom in Ernakulam (Kochi) and Thrissur and servicing Kollam, Pathanamthitta, Kottayam, Alappuzha, Idukki, Palakkad, Malappuram, Kozhikode (Calicut), Wayanad, Coimbatore, and Kannur areas, reach out to us at contact@bespokedecor.in for designing a unique sliding wardrobe design.