Kitchen Shutter Design 101: Lacquered Finishes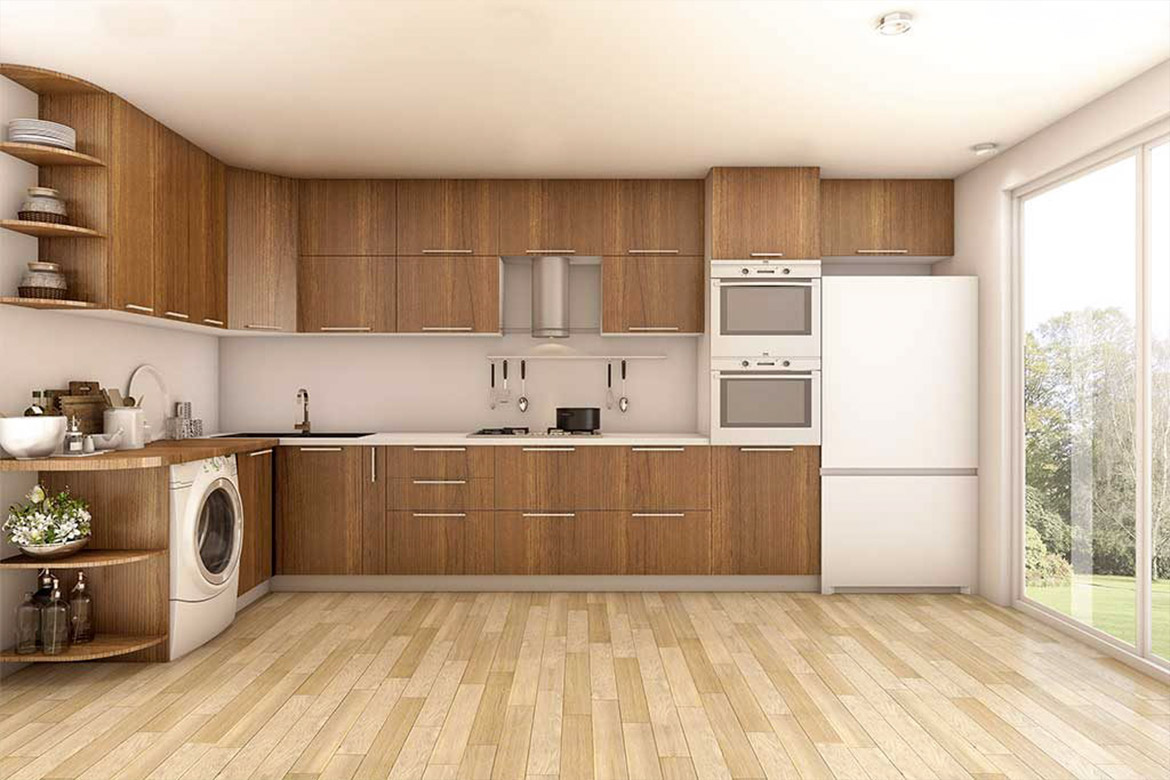 Premium finishes for the modern kitchen
Kitchens are one of the busiest and most demanding parts of the home and are often some of the most challenging spaces to design. Though the primary focus is on keeping them functional and efficient, there's really no reason they cannot also be colorful and fun. Lacquered finishes offer that perfect balance between long-lasting durability, easy maintenance, and a modern aesthetic.
1. Lacquer vs Wood
Traditionally, wood has been the chosen finish for a rich and luxurious ambiance, especially in Kerala. However, wood doesn't usually react very well when exposed to heat and moisture – conditions that are common in the South Indian kitchen. Some try to solve this problem by using a protective coating on the wood to improve its durability. 
With sleek, shiny, and colorful kitchens becoming more popular than ever, a lacquered finish on a kitchen-friendly substrate is definitely a more attractive choice for the modern kitchen.
PU Finish vs Laminate
Laminate finishes are achieved by using polymer glue to bind sheets of plastic or resin to the substrate material under specific heat and pressure conditions. This is a popular finishing option that is known to be budget-friendly, durable, and low maintenance. 
PU finishes, on the other hand, are actually painted onto the substrate material, which gives them a much more seamless and elegant appearance. The lacquered finish cost is a little higher than that of laminates, but it is worth the money spent if you'd like your kitchen to look a little more rich and modern. After all, a stylish finish can make all the difference to the atmosphere of your kitchen.
Read on to learn about lacquered kitchen finish options for that perfect premium kitchen.
2. Polyurethane or PU Paint
PU paints are polymer-based paints that can be used to create durable and low-maintenance kitchen surfaces. PU finish offers a variety of looks – matte, satin or glossy – in almost any colour across the spectrum. It offers one of the best high gloss finishes with a gloss level that is 95% higher than other finishes.
The lacquer paint creates a sleek and modern-looking kitchen. The paint finish gives kitchen shutters a very neat and tidy appearance as there are no pasting inconsistencies involved. The spray paint technique that is used commonly ensures an even distribution of the paint. This method makes it a great kitchen shutter finish option as it helps avoid unsightly edges. It's also one of the most suitable finishes for curved surfaces.
PU paint works best on smooth substrates such as MDF, HDF or laminated boards. The PU coat is quick-drying and does not produce any strong odours or toxic fumes. It is also worth noting here that polyurethane is one of the most eco-friendly plastics, which is an added plus for the environmentally conscious.
3. Pristine Poly-Urethane or PPU Paint
A Pristine PU finish offers a premium lacquered finish at a slightly more economical range compared to a PU finish. It is a great option to consider if you're looking for a premium finish for your kitchen shutter design, but on a slightly lower budget than the PU finish cost. The finish is available on both MDF and Marine Ply substrates.
PPU finish is designed to be scratch resistant. It is a low-maintenance kitchen finish that can be easily cleaned. The spray-painting technique used is similar to that used in the PU finish and offers the same evenly distributed, perfect coat of paint. PPU finish has a gloss level that's 90% higher than other glossy finishes and it is available in a wide range of colors. It also comes with a white frosty laminate backing.
A sleek kitchen can add so much spirit to the persona of your home – it is absolutely worth investing in it and giving it a premium finish. Our experts at Bespoke Décor are always excited to help you create that perfect kitchen.