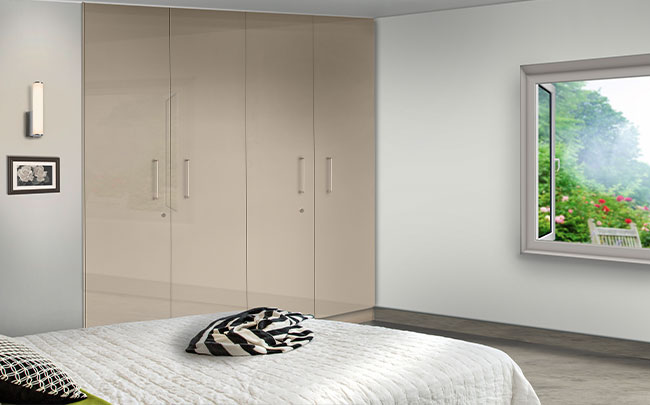 Hack your wardrobe design to open the wardrobe doors to unlimited storage
Whether your modular wardrobe has massive space or is a tucked-up corner of your bedroom, wardrobes could occasionally use a revamp. If you are a confused individual using your modular wardrobe to just store your clothes and accessories, we recommend this article for you.
Owning a dreamy modular wardrobe means using it to its full potential. Ask yourself if you could improve ways to store your stuff and give your wardrobe interiors a makeover. We have put together a few tips that could help you upgrade your wardrobe space. 
1. For small wardrobe owners
Fit components that hang clothes closer to each other, giving it a boutique style of arrangement. 

The extra spaces can be used for shelves that will fit shoes, bags, and other accessories. 

Tiny hooks can be placed inside for hanging bags or coats. 

If the space allows, opt for shelf dividers to keep stacks intact. 

If the wardrobe design inside is limited, consider getting storage baskets for keeping accessories and shoes. 

Get creative, let your wardrobe imaginations run wild. Choose to hang a few of your favorite accessories on coat racks (along with your coats!). 

Before deciding to re-stack your clothes inside the wardrobe, filter out clothing and accessories that you're less likely to use and arrange the important ones in order. 

A bonus tip- Fold, roll up and place light clothing in drawers or on small stacks on shelves to save space for all your extras! (The higher the pile, the more likely it is to fall. Hence, go for smaller 
2. For wardrobes with ample space
Create a 'dress up' station by utilizing some space in your modular wardrobe design. This works best for walk-in type wardrobes wherein a mirror can be placed in one corner, with many hooks to hang clothes and accessories. 

Display your best accessories, the ones you'll keep and love forever! A few hooks or rails can be placed behind wardrobe doors for this or make a designated space with an LED spotlight on those accessories. As a plus point, open storage lets you find your favorite things without a hustle. 

Categorize your clothes based on formal and casual, and subcategorize them into tops and bottoms. Furthermore, you can separate them based on sleeve lengths (short to long), colors (light to dark), and even have a separate category for special occasion clothes. 

When arranging shoes in your modular wardrobe, categorization is a smart move, but what's smarter is the way to arrange it in a 'reverse' shoe method – alternating each pair from front to back. This allows more room for a sophisticated shoe display as well as airing out your expensive footwear. 

If you can invest in a stylish modular wardrobe, you might as well consider matching hangers for the interior design of your wardrobe. It gives a sleek appearance to your wardrobe. 

Want to hide a TV inside your modular wardrobe? Fitted wardrobes conceal such objects best! 

Make use of adjustable dividers within the drawers of wardrobes. It helps in maintaining a clean look of drawers. 
As a golden rule in wardrobe organisation, make sure you refresh and reorganise your wardrobe every season. Be mindful about how much you spend stacking your wardrobe as well. Once you organise your wardrobe, chances are you'll be happier to dedicate time to keep it looking good! 
With a showroom in Ernakulam (Kochi) and Thrissur and servicing Kollam, Pathanamthitta, Kottayam, Alappuzha, Idukki, Palakkad, Malappuram, Kozhikode (Calicut), Wayanad, Coimbatore and Kannur areas, reach out to us at contact@bespokedecor.in for designing a unique storage-packed wardrobe design.