Get A Handle On Updating Your Bedroom Wardrobe!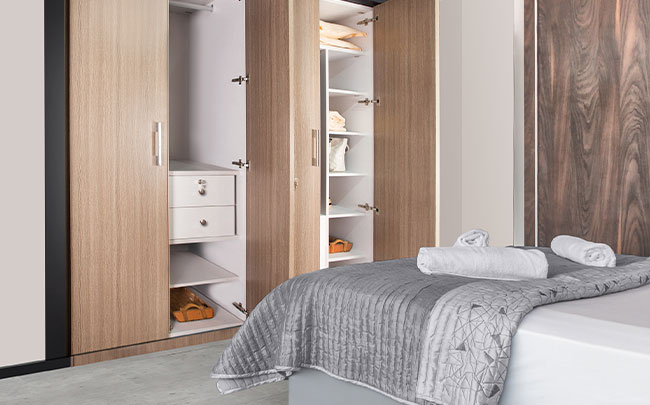 All About Handles On The Wardrobe Door
The approach to designing a modern wardrobe includes considering the space, the architectural layout, and the type of wardrobe best suited for the same. With the perfect design being picked out, trivial yet significant factors like door handles may need equal importance in enhancing the beauty of such home elements.
If you ask us why we think handles on wardrobe doors are important, this is an article worth considering. Wardrobe door handles make it easier for the seamless functioning of the doors and most importantly, be strong in handling forces. You don't want to keep fixing loose door handles, do you?
Whether you plan on getting a simple or a contemporary style wardrobe handle, it is important to find a design that goes best with your wardrobe type. Wardrobe handles can be in wood, metal, acrylic, or glass finishes. With the right choice of wardrobe handles, the overall appearance of wardrobes can be enhanced. Here's a basic guide to help you choose a wardrobe handle design that will accentuate the look of your space.
1. Minimalist designs
These wardrobe handle designs offer a unique style added with minimalism. They are great for sliding door wardrobes as well as hinged door wardrobes. The concealed design of these door handles complies with ergonomic and convenient usage.
2. Functional wardrobe handles
Functional types of wardrobe handle designs use lever handles for managing wardrobe functions. Lever-type wardrobe handles would be ideal for rooms with similar door handle styles.
3. Designer wardrobe handles
When it comes to choosing customized wardrobe door handles, opting for a designer wardrobe handle would be the best choice. It can be tailored to suit your wardrobe style, be it traditional or contemporary. Designer wardrobe handles include types like knobs, cabinet handles and cup pulls.
A variety of wardrobe door handles are available with special designs in wood, metal, acrylic, and glass that come in various sizes and unique shapes. When selected suiting the type of wardrobe design, door handles add a charm to the overall look and feel of the bedroom.
With a showroom in Ernakulam (Kochi) and Thrissur and servicing Kollam, Pathanamthitta, Kottayam, Alappuzha, Idukki, Palakkad, Malappuram, Kozhikode (Calicut), Wayanad, Coimbatore, and Kannur areas, reach out to us at contact@bespokedecor.in for designing a wardrobe that you will love!