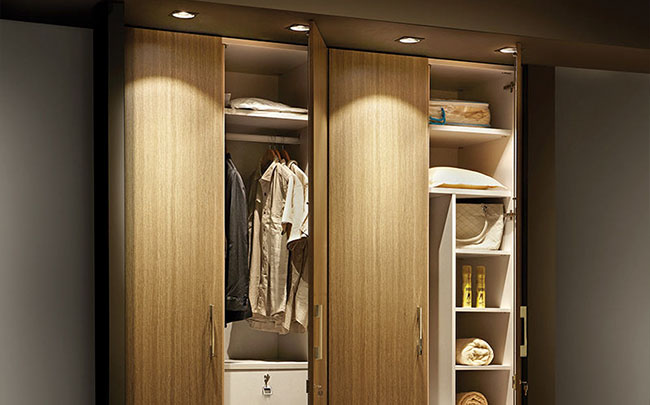 The scientific approach to wardrobe design.
Many fundamentals guide wardrobe design- the main one being how user-friendly it is. One factor that must precede wardrobe interior design is an understanding of ergonomics
What is ergonomics and how does it impact wardrobe design? In general, ergonomics refers to the science of study of people and the items they use as well as the locations they frequent. With adequate planning and this basic understanding of the user, one can manipulate items and locations frequented in daily routine to make it quicker, safer, and more comfortable for the person of interest.
In interior design, ergonomics is a frequently discussed topic- kitchen ergonomics so that a person can prepare a meal without difficulty, space planning in the blueprint of a house to make a room feel spacious, the type of sofa that would suit the family- every single aspect with good interior designers is designed keeping the end-user in mind.
About the bedroom and in particular, wardrobe design, there are several aspects to consider to make it ergonomic. The ergonomics of wardrobe design is highly dependent on who the user is- their age, gender, height, physical condition, preferences, and dominant hand.
The Principles of Ergonomics & how it influences Wardrobe Design with clear examples are as follows:
1 .Maintenance of a Neutral Posture       
When the user's body is in balance, they are said to be in a neutral posture. A state of imbalance constitutes an awkward posture and must be avoided at all costs for routinely performed tasks. 
Example: Designing ergonomic wardrobe handle designs to direct opening and closing motions for the wardrobe door work on the principle of maintaining a neutral posture of the digits, wrists, and forearms. 
2. Reduction of the need for Excessive Force, Motion and Exposure to Increased Vibration 
For the use of a product, the user must not have applied excess force or motion and should not receive increased vibration. These factors may harm the individual's long-term health. 
Example: Struggling to open up a heavy drawer in a wardrobe or a rusty wardrobe door is rather unpleasant- and can be detrimental to health in the long term. Consider sliding wardrobe door design and push-to-open drawers for ease and reduction in the need for excessive force and motion. 
3. Items should be readily Accessible
Things for daily use should be placed within accessible reach making the reach and use of the product easy. 
Example: In a wardrobe, items of routine use like daily wear clothes and undergarments must be allocated within zones that are easy to reach. Using the right wardrobe accessories to organize them within this zone is extremely helpful. The use of lofts or bottom storage must be reserved for items that are used only occasionally like clothing for special events, seasonal clothes, or luggage.  
4. Maximal operation within the Hand-Shake Zone 
Operating within one's comfort zone always yields the best results. Similarly, a person's hand-shake zone is considered to be their power zone and it falls between the middle of a person's chest to the middle of their thigh. If any effort needs to be made, it is best to operate within this zone to reduce strain. 
Example: Heavy items like a jewelry box or a master bedroom wardrobe with an in-built foldable dressing table or ironing stand must be placed within this zone for a user to allow for easy operation. 
5. Reduction of Static Load 
The position that a person maintains for an extended period contributes to increased static load which results in fatigue. 
Example: When a wardrobe is being designed for an individual who is 5 feet tall, it is advised to keep the commonly used clothing items on shelves or rails that can be accessed without bending down or reaching up for them. The same goes for the width of the shelf- the user shouldn't have to bend in an awkward posture to get an item from the back of the shelf. While this entails a very small portion of the day, it is done daily while deciding on the outfit of the day, for a long-term period.
6. Pressure Point Minimisation 
Throughout the usage of an item, the place where the object contacts the body of the user is the pressure point. Excessive pressure points tend to result in contact stress and thereby, must be reduced. 
Example: For the opening and closure of a wardrobe or its drawers, it is important to reduce the area of pressure points. Maximum pressure points will be activated in wardrobe handle designs wherein a complete grip is needed for the opening while minimal pressure point activation is observed in push-to-open or electric opening varieties. 
7. Good Lighting for Illumination
To reduce strain on one's eyes, it is advised to have good illumination within all operating spaces. 
Example: Invest in good wardrobe lighting sources that allow you to easily visualize all the contents of the cupboard unit.
Keep in mind all of these tips and their applications when you finalise your wardrobe design! With a showroom in Ernakulam (Kochi) and Thrissur and servicing Kollam, Pathanamthitta, Kottayam, Alappuzha, Idukki, Palakkad, Malappuram, Kozhikode (Calicut), Wayanad, Coimbatore and Kannur areas, reach out to us at contact@bespokedecor.infor designing an ergonomic wardrobe design just for you!