Crockery Shelf Designs to Impress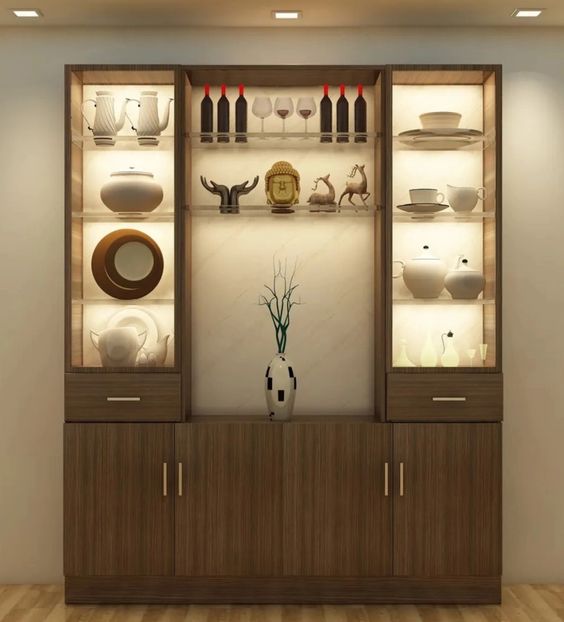 Here are the top 5 recommendations for crockery shelf designs
The exclusive crockery shelf has seen a place in homes- and it has proved its worth over the sands of time. It's not only a great functional space to store those bulky cutlery items, it also draws the eye in with its visual appeal. 
Now, it may not necessarily be considered an essential to every home but with these five impressive designs, you're going to rush to a crockery shelf design store in Kerala to plan for one! 
Modern crockery shelf options:
write your detail or leave blank
These options are suitable for placement in the living room due to their high design value and multi-functionality.
Bar + Crockery shelf:

If we had to pick the most favourite of all

crockery shelf designs in Kerala

, it would be this one. This is a great pick for homes that want to display their coveted beverage collection alongside the conventional cutlery that gets stored in the

crockery shelf

. Speak to your interior designer in advance, if you want a pattern of this sort, so that they can designate appropriately-sized zones for bottle storage and bar accessories within the crockery shelf design. 

Floating drawers and cabinet shelving :

If a wall-mounted crockery shelf design is what catches your eye over the traditional variants, this may be just the one for you. This works well for smaller spaces as it provides a storage space which looks good too. 

The floating contemporary design can be achieved with good planning and understanding of the space. One could opt for a single floating cutlery shelf unit with display and drawers or have the two components disconnected and floating with a console zone with styling potential in between the separated elements.

Pooja stand + Crockery shelf  :

Apt for smaller spaces where one unit would demand multiple functionalities, split the conventional crockery shelf design to function partly as a pooja stand. Adorn it with devotional memorabilia while also using the space to display and store your premium cutlery.
Traditional crockery shelf in dining room:
If you're one of those people who loved the charm of a beautifully carved wooden crockery cabinet replete with warm lighting and glass shelving, don't think twice about getting this charming crockery shelf made for your dining room.
4. Wooden crockery cabinet: There's a reason this design has continued to be the crockery shelf design of choice over generations- it is timeless, functional and beautiful. In terms of placement, if you have a designated dining area in your floor plan, set up this classic there. Extra points for classic china cutlery! 
Half does it!
Couldn't be bothered with having a bulky crockery shelf taking up prime real estate within your floor plan- half is fully acceptable  
5. Floating crockery shelf in kitchen:If not in the living or dining room, place a smaller-sized floating crockery shelf within your kitchen layout. Either have drawers and shelves or cabinets in half the size of a conventional crockery shelf. Remember that it should be kept away from the work triangle in the kitchen so as to ensure an efficient use of the space.
Love a design and want to set it up in your space? Contact us at _______ to get the process started.