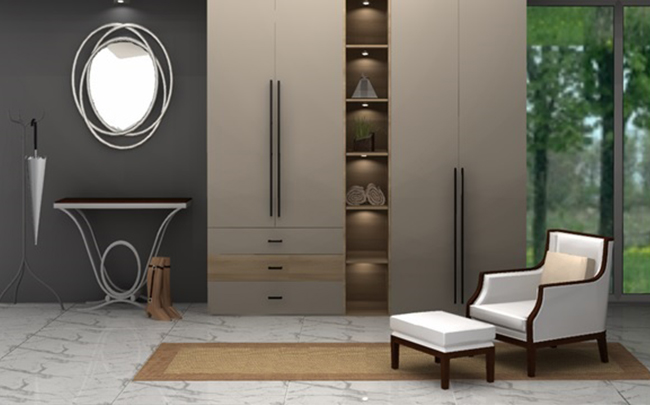 Basic models need less space than you would think!
As per the traditional walk-in wardrobe design, a standard model requires a space of 100 sq ft. With this much space, you could have a double-sided walk-in with a mini island or designated seating area in the centre. 
However, in modern homes, especially apartments, this much space is considered a luxury- and most people have other uses for it over a walk-in wardrobe. For those who have dreamed of a luxurious walk-in wardrobe design, don't be disheartened. Bespoke is here to help!
Smallest area required for a walk-in wardrobe design:
It is an urban myth that small homes cannot have walk-in wardrobes! It is absolutely possible to have a walk-in unit in a compact space at quarter of the standard recommendation- i.e. within 25 sq ft, to comfortably accommodate one person at a time! 
Chances are that you have this much area to spare. For every added square footage, a well-informed team can unlock even more storage potential for your closet! 
All it takes is a little bit of planning, smart storage options and a good team of interior designers!
Tips to improve efficiency of a small walk-in wardrobe design:
Good lighting can make a small

walk-in wardrobe

look a lot roomier than it actually is.

Consider having a double rod facility to maximise storage within a minimal space. 

Use the corners wisely and have fixtures to utilise these otherwise ignored spaces in the most efficient manner with corner shelves to display handbags or shoes. If you'd like, you could even let these remain as storage units and fix a mirror onto the outside of the corner shelf to add more dimension and give an appearance of more space to the closet.

Instead of the conventional swing-out or swing-in doors which impinge on space, consider investing in a bifold door or a sliding door to access your

walk-in wardrobe

.
With a showroom in Ernakulam (Kochi) and Thrissur and servicing Kollam, Pathanamthitta, Kottayam, Alappuzha, Idukki, Palakkad, Malappuram, Kozhikode (Calicut), Wayanad, Coimbatore and Kannur areas, reach out to us at contact@bespokedecor.infor designing a compact yet functional walk-in wardrobe of your dreams!