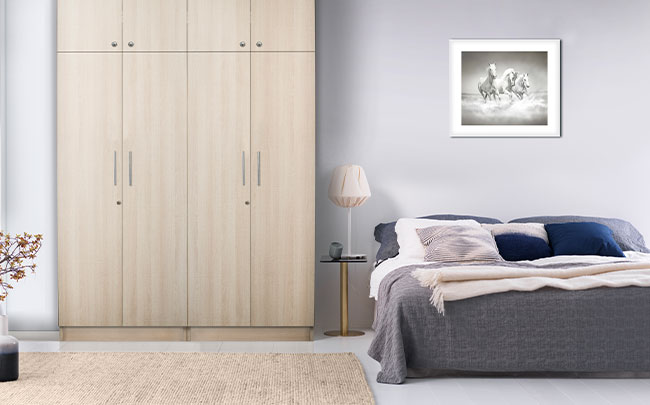 Making the aesthetic work for you
If cool blues, soft whites and natural elements make up your idea for a bedroom interior design, then considering a relaxed vibe for a room design would never go wrong. Coastal designs for a modern bedroom need not be done as a typical 'nautical' theme with blue wall paint, seashells and just about everything marine! The term 'coastal' entails earthy tones and soft hues whilst giving it a beachy feel. 
A carefree exhibition of nature through bedroom interior designs can bring the beach vibe indoors. Well, coastal bedroom themes are a popular choice for primary bedrooms and children's rooms in many modular homes
And no, your home need not be on the beach to get a coastal design done! So how exactly can you bring the best beach aesthetics to your bedroom design? Read on to find out how we make it work for homes, so you can too.
The colours
While bold colours like blue and teal may sound appealing, coastal bedroom designs are more inclined to neutral hues like soft blues, greys and whites. Above all, crisp white is the best shade that perfectly describes a coastal interior design. Similar to minimalist styles, shades in neutrals are preferred over dark tones. However, experimenting with a splash of colours is not always a bad idea. Deep blue shades give a Mediterranean look, pale blue greens reflect a seaside style and corals give a vivid tropical feel.
This goes without saying, but letting in lots of natural light is very important for a white room. It makes the coastal theme feel light and breezy!
The style 
To create the best beach aesthetics in bedroom designs, think all natural! Choose furniture materials like rattan, weathered wood or wicker. Go for rugs made of straw, jute or non-shiny fabrics. Sheer curtain panels are better than flamboyant textures in such bedroom designs. Though wood can be made plentiful in the bedroom interior design, whitewashed wood or ash looks beautiful in coastal themes. 
The accessories
Here's the rule- do not clog things up with beach furniture or decor, instead, make it look flowy! It is better to avoid getting the cliche decor accents in plenty, instead give the bedroom decor a few beach touches like shells, woven baskets and glass bottles. Hang a coastal themed gallery wall, a calming wallpaper and deck up the shelves with glass vases. When it comes to choosing a bed design, think cosy and soft with lots of natural fibre! Stack up fluffy throw pillows in contrasting shades to give the bedroom design the verve. Sounds perfect for a dreamy coastal themed bedroom, isn't it?
With coastal themes as a key lure, it's no surprise that casual decor is an all-time favourite. What's a better place to achieve a similar calm vibe than in a beach-themed bedroom? Make every day feel like a vacation with these cool colours, natural textures and coastal patterns! 
Want to gather some coastal bedroom design inspiration? Get in touch with us on _________.