A Kitchen You Are Proud Of: With 5-Piece Veneer Kitchen Shutters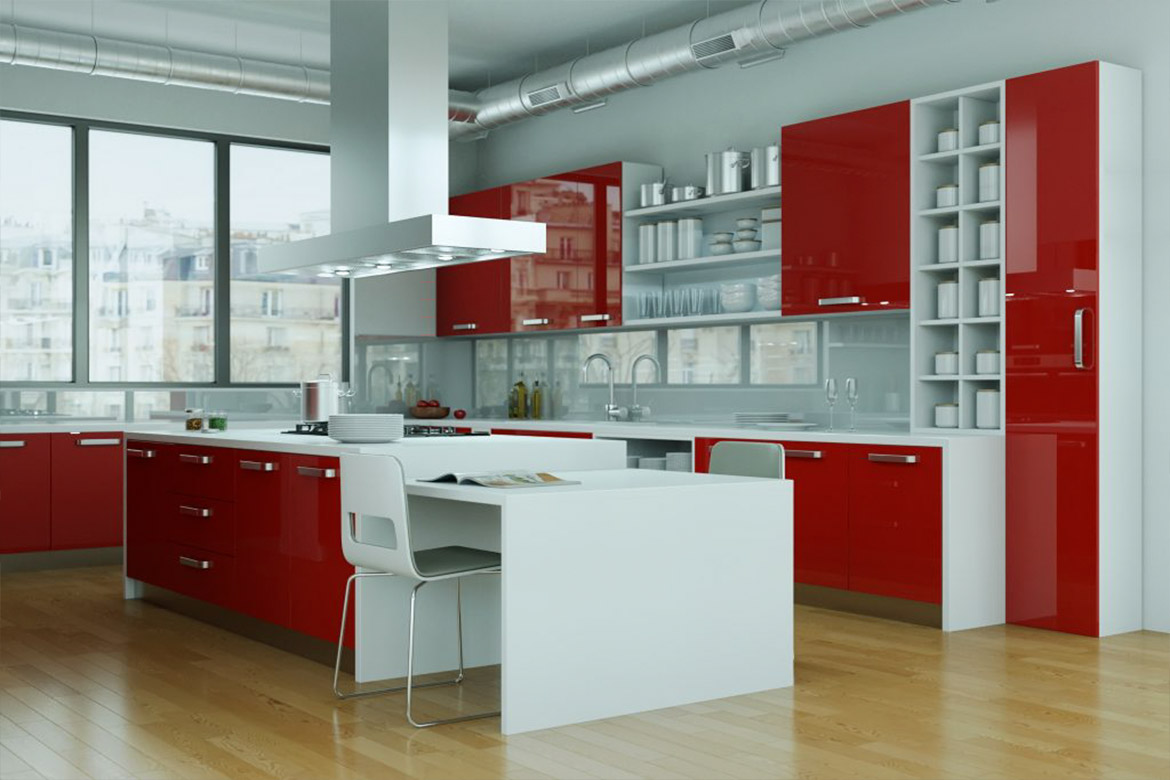 Recreate the luxurious opulence of a wooden kitchen with the exclusive 5-piece veneer finish
Nostalgia finds an easy place in the kitchen. Just imagine your grandmother's recipe – carefully passed on from generation to generation – that makes the smells and tastes and flavours of your childhood just come alive! The right kitchen finish can create a charmingly quaint atmosphere that perfectly complements the sweet moments of reminiscence that you create in your kitchen.
Wooden interiors have always been the ultimate symbol of classy opulence. A wood veneer kitchen cabinet finish offers the same aura of warmth and old-school grandeur, while still continuing to offer the conveniences and efficiency of modern kitchens. Read on to learn more about the ultimate vintage luxury finish.
Wood veneers are created by sticking thin slices of natural wood onto the base material or substrate using polymer glue and a hot press. This finish is particularly popular as it can recreate the rich look and the feel of solid wood.
The 5-piece veneers are structured together using a constructive framework that makes them stronger, classier and more durable. They are lightweight and look very aesthetic with their warm wood finish. But unlike solid wood, they are far more durable and resistant to the ravages of heat, moisture and changing weather. The 5-piece wood veneer is also easier to clean and maintain, making it a great finishing option for a modern luxury kitchen.
Veneer vs Mica
While choosing kitchen finish options, people often wind up comparing laminates vs veneer. Laminates or Sun Mica, as they're commonly known, are a common kitchen finish that is quite popular today. Laminates are artificial finishes that have sheets of plastic or resin glued on to the base material under specific heat and pressure conditions. They provide a low-maintenance and durable kitchen finish that is also quite budget-friendly.
Wood Veneers are created by a process quite similar to how the laminates are created. But the difference between veneer and laminate is immediately apparent in the look, feel and aesthetics of the final result. While wood veneer kitchen cabinets shine with their rich and natural wood finish, laminates sometimes tend to make kitchen shutters look cheap and artificial.
But of course, the superior quality and aesthetics come at a price. Veneer laminate cost is usually higher than sun mica cost. The exceptional kitchen shutter design with the 5-piece wood veneer definitely costs more than the average laminate finish. But if you're looking to create a high-end luxury kitchen, then it is definitely worth investing your money in a finish that reflects the class and elegance you desire.
Ultimately, your kitchen must be designed to reflect your own tastes and personality. The 5-piece veneer is the perfect kitchen shutter finish if you're looking to build a sophisticated luxury kitchen. It is reminiscent of the charming, vintage English shutters that make the kitchen a warm and welcoming space – perfect for a hot cup of tea and happy conversations.
Our experts at Bespoke Décor are always excited to help you design a kitchen to suit all of your unique tastes and needs. Do reach out to us and we'll help you find the perfect kitchen for your dream home!