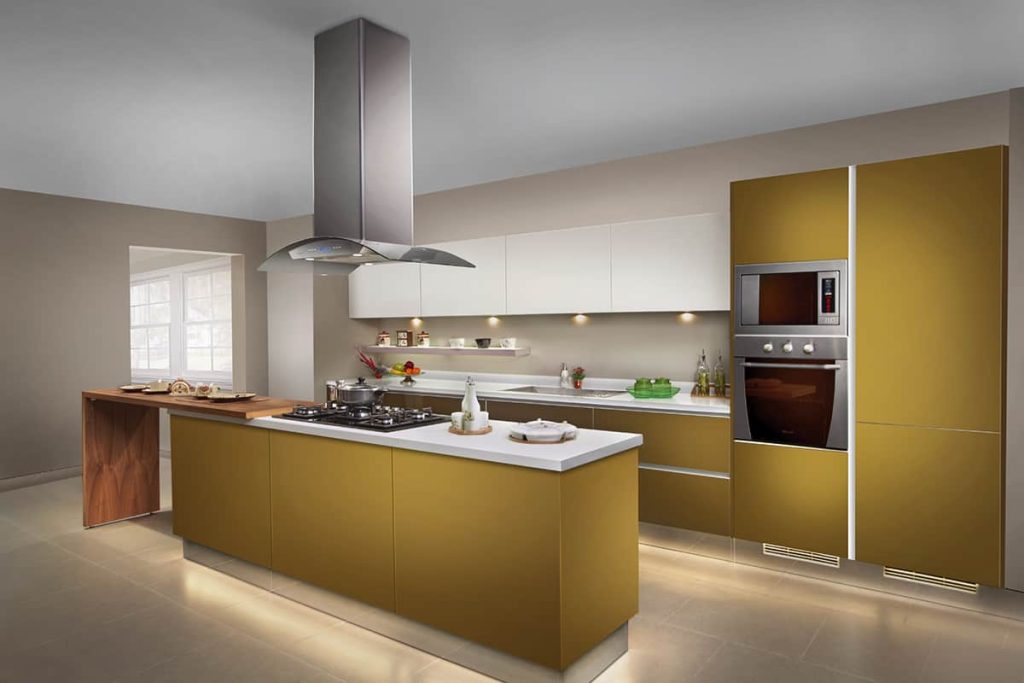 There's definitely a colour combination on the Bespoke Décor catalogue you'll love!
Matte finished interiors are trending now and your kitchen can jump on the bandwagon. It diminishes the appearance of stains too, making long-term maintenance that much easier. Matte-finished black cabinets add a very strong personality to the kitchen. The countertops can be shining white in stark contrast to matte black and add more depth to the kitchen design. Add a pop of color to the backsplash, something like yellow would bring in exuberance and warmth.
From the Catalogue: Check out the Classic Matt Black L-Shaped Kitchen for inspiration on this combination. The color combination here is a remarkable marine blue cabinet with wooden floors and countertops. A backsplash of white works ideally with the theme. It brings a cooling effect to the subtropical heat of Kerala. A highly recommended design by the best interior designers in Kerala! 
From the Catalogue: Exodus Acacia Laminate mixed with PU is the one for you, if you like this combination. Wooden interiors never go out of style. If your house is replete with wooden installations, then your kitchen plays an essential part in it. Wooden tones of oak and mahogany bring in a glorious vintage appeal. The lower cabinets should be wooden and can have a see-through glass panel. White countertops and a neutral backsplash of beige or fawn give it excellent accompaniment.
From the Catalogue: You're sure to love our Vintage Wooden Style Kitchen if you like a mix of wood tones in your home. Here is a design close to nature that would make cooking even more pleasurable. This signature kitchen design comes in shades of pastel green. The cabinets are green with a glossy appearance, reminding you of picnics in a garden. The eclectic shades of green are neutralised with a beige backsplash. The entire ensemble has a glossy and chic appearance.
From the Catalogue: Our signature collection has a modular kitchen called The Nature Lover, a favorite among people who love spending time outdoors! This signature kitchen from Bespoke reminds you of lovers cooking together and creating memories. It is a glossy and radiant affair with a cocktail of pastel pinks. Light pink and white cabinets with a glossy finish and a white backsplash. Wooden countertops accentuate the vigor of the space. It comes with an integrated wooden breakfast counter too for those lazy breakfasts on a Sunday morning.
From the Catalogue: The Romantic is a beautiful Signature Kitchen, ideal for newly married couples in their first home! This unlikely combination is an urban style minimalistic kitchen oozing with style. It comes with a multi-dimensional island counter that can accommodate the dining space. It is designed to look like an extended living room and has grayish to neutral copper tones that give an austere appearance to space. The key is to pair it with some bold colored accents like paintings and vases.
From the Catalogue: For the suave and stylish, we have a signature modular kitchen called The Epicurean in these tones. Which one is your favorite? Reach out to Bespoke Decor at  +91 90 20 10 70 22 | 23 to check if we can create your dream kitchen in your favorite colors.