5 Secrets to Crack the Perfect Wardrobe Design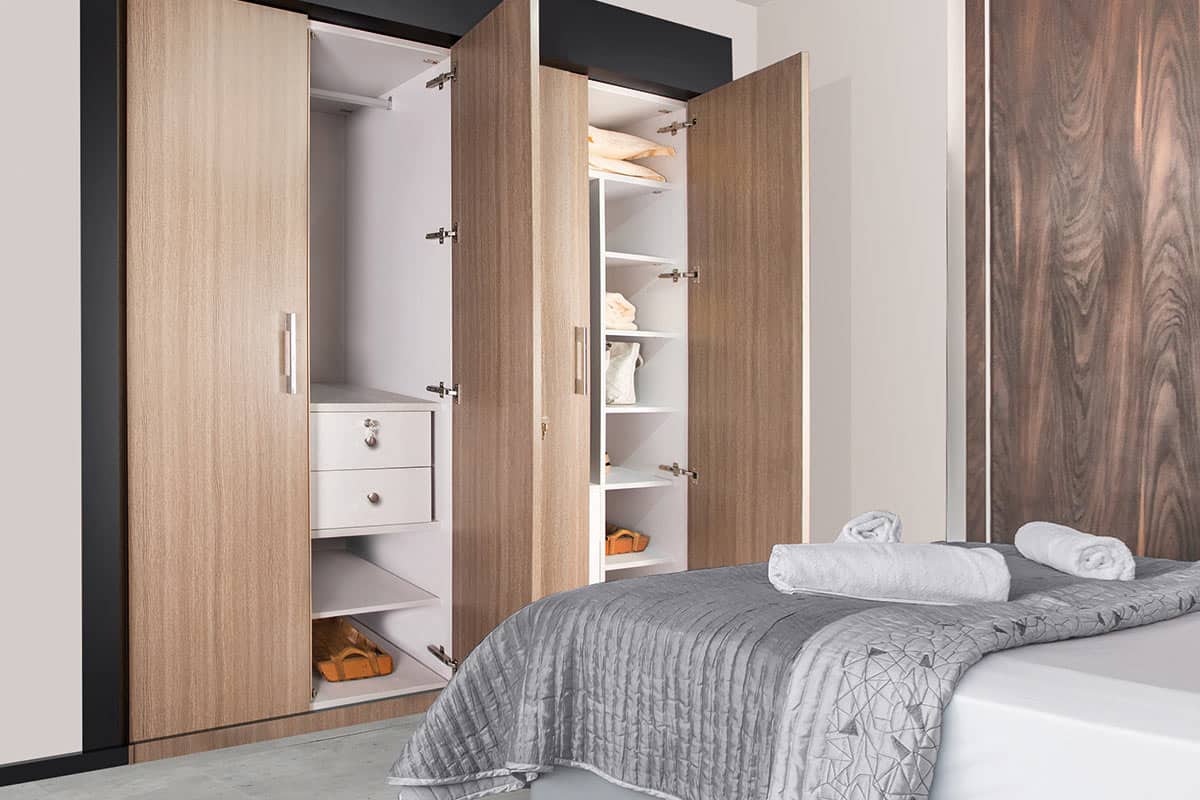 Expert hacks to get the wardrobe of your dreams!
From the lady of the house and her many dresses, the sophisticated wardrobe for the guy to the fun but utilitarian design for the little ones, every wardrobe tells a story. To plan a well-designed wardrobe is hence a task crucial to your home design. Fret not, we bring you simple ways to ace your wardrobe design from our interior designing experts in Kochi and Thrissur.
Read through and let us know if you are looking for more suggestions or detailed help too!
1. Decide Your Storage Type
For every wardrobe that you want to design, plan out the kind of storage space that suits you most. It can be a mix of stacking, hanging, and customised storage units. It all depends on the person for whom the wardrobe is built! Your kids would love to stack their toys beside their clothes arranged on hangers while your parents might love a handy drawer with compartments for easy storage of everything from their spectacles to medicines. The sky's the limit to the options, so go figure the one for you!
2. How It Fits In Your Room
The placement of the wardrobe in your room also matters a lot. Right from finding out whether you want it to fill a niche or have its own space with a walk-in design, the space you plan for it is really important. The type of door you want can also be decided based on the leeway you can allot while opening it. Have a small room? A sleek slide doors wardrobe design is the right one for you!
1. Hinge Doors
The definition of timeless and classic, hinge doors come with shutters mounted onto the cabinet using hinges. The best benefit – you just have to turn a door to see your entire wardrobe in one shot. Sleek, smart and simple is the word!
2. Sliding Doors
Our favourite, these wardrobes are chic and trendy with them fitting perfectly even in compact rooms. With shutters that smoothly glide on dual tracks and zero door clearance, sliding doors make up one of the sleekest wardrobe designs there is!
3. Walk-in Doors
How many times have you drooled over those celebrity walk-in wardrobes that go on and on? Every time, right? Here's some good news, getting one of your own is not impossible. The epitome of luxury, walk-in wardrobes have more space requirements but are so worth it too. Add in sleek finish and plan the space well and Viola! wardrobe dreams come true.
3. Material, Material
Once the top two are sorted we'll talk about the material for your cupboard. Be it the color, texture, or quality; go with what suits your room, usage, and taste best. The inner and outer bodies can both be of the same or different material and color to go with your choice. BWR Plywood and Engineered Wood are a few popular choices for wardrobe material.
4. Accessories to Invest In
Your wardrobe does not just hold clothes but has a whole world of other things you need too. How many times have you longed for that ironing box unit or tie organiser to make life simple? Getting the right accessories for your wardrobe will make you super organised and will save time while dressing up too!
5. Finishing it off with fittings and finish
Right from the type of fittings to go with your wardrobe design like the right handle and extensions to finishes, it's a whole wide world of wardrobe design options waiting for you out there. Nothing to be intimidated though, all you have to do is look through the options you have and plan it wisely. Finishes come in all sorts right from laminate, membrane, UV, acrylic, aluminium with glass or aluminium with lacquer. A word before we reach the close: your budget and comfort are what matters most when it comes to something as personal as your wardrobe design. So, go for the one that your heart (and pocket) calls for!
For anyone finding this a bit more than what they can take on, give us a shout out for a free consultation by our interior designing experts in Kochi, Thrissur or any city in Kerala. You can find us at +91 90 20 10 70 23 or contact@bespokedecor.in and we'll make sure your wardrobe aspirations are brought to life!