Big ideas for the little ones
Designing a modular wardrobe for your bedroom sounds like the perfect choice for reorganising everything you want to store. But have you thought about what it would look like if your children demanded a wardrobe?
We know it is hard to imagine a squeaky clean bedroom when you have children running around. But a simple (and colourful) kids wardrobe design is not unimaginable if we tell you how it can transform the look of a boring kids bedroom!
Here are a few popular kids' wardrobe designs that we absolutely love. By the time you look at these, we bet you'd consider getting a wardrobe designed for your little one.
Bright yet neutral for the minimalists
Children love bright colours but opt for a safe shade that still stands a chance for being a 'favourite' when they grow older. Have a mix of open and close storage spaces, in different colours. These can be used to hoard books and toys. 
Pastels for the princess or princes!
Generally, kids love gentle pastel shades that include pinks and purples. Adding a dash of white to the wardrobe design would make the small wardrobe design look cute and elegant. 
These wardrobe designs are a popular choice among older children and teenagers, where wardrobes run along two walls of the room, with ample storage space. The wardrobe laminates can hoard posters and photos of anything they like!
Character & cartoon themed wardrobes
Be it a sailor or superman- this kids wardrobe design is suited for children who imagine creativity. The chest of drawers and wardrobes can be customised to their liking of cartoons with additional fittings like ropes that hang from the ceiling. An additional way to get creative is to place wardrobe handle designs that are quirky and fun. A simple star-shaped or animal-shaped wardrobe handle will make it look cuter!
What kind of kids' wardrobe designs are popular?
These wardrobes are traditionally styled with additional hanging space for clothes, bags or other accessories, have extra shelves and integrated drawers. 
Low wardrobes are popular choices for young children, especially when the caregivers are proponents of the Montessori approach. This type of modular wardrobe design helps children to access their clothes and accessories in accordance with their height. Some drawers can be fitted underneath their sleeping beds. 
These modular design kids wardrobes are a great way to instil a sense of responsibility in children. Having multiple levels in a wardrobe enables them to pick their belongings without assistance. Arranging different wardrobe accessories in a spread out wardrobe makes it easier for their little hands! 
These wardrobe designs can have single, double or multi shutters depending on the width of the space. Built-in wardrobes are ideal for smaller spaces and can be customised creatively.
Multifunctional wardrobes
All that these wardrobe designs need is a tall wall (to which it can be fixed) and can accommodate a child's storage and lifestyle needs. For example, a bookshelf can be combined with the wardrobe, along with a study desk. How cool is that?
Walk-in wardrobes for kids
If your child's room has extra space, indulge in designing a walk-in wardrobe that showcases their belongings in an organised manner. As a plus point, these wardrobe designs save you time in reorganising everything that they've pulled out! 
These are stylish wardrobe designs that maximise the space in a kids bedroom. Corner wardrobes are best for children who share the same bedroom. As much as these wardrobe designs offer shelving solutions, it lengthens the size of wardrobes too. 
Since kids are always on the move, consider giving finishes that are easy to maintain, especially when there are junior 'Picassos', painting all over the house! Getting a water-resistant finish would be ideal for kids' wardrobes. When it comes to children's wardrobes or accessory furniture, ensure safety by avoiding sharp corners and edges. With respect to the colours and themes that they like, remember that children always change their minds – so be smart about getting a neutral finish on wardrobes. You can always get stickers for decking up wardrobes.
With so many options to choose from, we know you'll be confused. So let us help you in designing a cute and elegant wardrobe for your little one! With a showroom in Ernakulam (Kochi) and Thrissur and servicing Kollam, Pathanamthitta, Kottayam, Alappuzha, Idukki, Palakkad, Malappuram, Kozhikode (Calicut), Wayanad, Coimbatore and Kannur areas, reach out to us at contact@bespokedecor.in for designing a unique wardrobe design.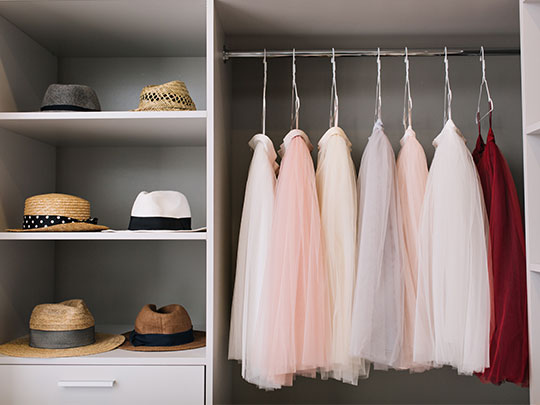 Insider tips & tricks 
Do you know that the ultimate wardrobe nightmare for a professional wardrobe organizer would be? A cluttered wardrobe.
Having an unorganized wardrobe is a very unpleasant and unaesthetic visual that reflects poorly on the user of the wardrobe. Most of the time, this happens due to poor layout planning or having lots of clothes to store in that particular space, or both. There is always a way to organize wardrobes even if one has a small wardrobe design. When planning your wardrobe design, set yourself up for success with a great layout that fits your needs to the T!
Here is a list of do's that you can follow to get an ideal organized wardrobe:
Make use of your vertical spaces very wisely. Arrange according to the type of clothing and try not to mix different clothes.

For example, arrange shirts together, followed by pants and so on. This makes for a very decluttered visual that is easy on the eyes and easy to use too.
Sides of vertical spaces can also be used to place hooks that are ideal to hang accessories such as hats, jewelry, and small bags. These hangers or hooks to store miscellaneous items are very cost-effective and are worth it for the space they conserve. 

Try to place a divider between clothes so that it is easily distinguishable between different types of clothing. This is especially ideal for a couple's wardrobe where clothes can be separated from one another.

The use of labeled bins is also an ideal way to organize smaller clothing materials. Labels with different bin colors make your wardrobe look very pleasing.

Drawers can have small boxes where you can store your jewelry and socks. You can save a lot of time in searching through the mess, once a designated box is given for a particular item. 

Use of a shoe rack or accessories designed to store footwear in a minimal space in the lower compartments is a great way to organize them. Try to arrange it in a manner of type and color that makes it easy to identify while also being appealing to look at.

If there is a bigger wardrobe space, it would be ideal to dedicate a particular shelf space for a single type of clothing- one for formal shirts, one for casual tee-shirts, one for pants, and so on. What would make it even more neat is folding them and stacking them according to similar color tones.

Smaller wardrobes can use hooks in every corner of the wardrobe with extendable railings. 

Organize drawers and label them as weekend and weekday clothes if you want to take things further with your arrangement to amp up overall ease.

 This may come as a shocker but shower rings can be used to hang your ties and scarves neatly.

Kids' wardrobes can be arranged with the help of labeled bins as they have lots of toys and books. This encourages them to maintain their wardrobes neatly too while also developing a sense of independence. 

Use bins made up of different fabrics to give an esthetic look and store out-of-season clothes in the upper compartments.

Do a regular deep cleaning of the wardrobe every 4 months- to figure out which items you need and ones that can be donated or thrown away. A helpful tip to assess which items to give away is to turn all the hangers one way when you finish organizing the wardrobe. After use, turn the hanger the other way around with the item on it. The next time you get to deep cleaning, look for the hangers facing the initial way and donate or dispose of those items as they are frequently used. 
With a showroom in Ernakulam (Kochi) and Thrissur and servicing Kollam, Pathanamthitta, Kottayam, Alappuzha, Idukki, Palakkad, Malappuram, Kozhikode (Calicut), Wayanad, Coimbatore, and Kannur areas, reach out to us at contact@bespokedecor.infor designing you an easy-to-organize wardrobe design.